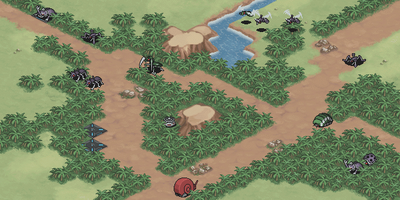 Chapter 6 - The Origins
Edit

Laser Sight (GA+40) (build: 100t)


Vulcan (GP+70) (build: 80t)


Side Armor (DEF+10) (build: 50t)


Missiles X2 (CP+110 RNG3~5 HP-40) (build: 100t)


Hawk-Eye (GA+35) (build: 80t)
Ally Side Edit
1 snail, 4 snail-deployed
Dor-O, K-Buto, Y-Ite, A-Geeto, Hicar-E





Enemy Side Edit
7~9 enemies.
Ant LV4 x2


| | | |
| --- | --- | --- |
| Ant Fang (MP+20) | Machine Gun (GP+50) | (No Cannon) |
Mosquito LV5 x2


| | | |
| --- | --- | --- |
| Mosquito Lance (MP+10) | Machine Gun (GP+50) | (No Cannon) |
Strider LV5 x2


| | | |
| --- | --- | --- |
| Strider Spike (MP+50) | Machine Gun (GP+50) | Cannon (CP+80 RNG2~3) |
Rhino Beetle LV5 x1N~2H

Normal

Hard
| | | |
| --- | --- | --- |
| Pronged Horn (MP+25) | Machine Gun (GP+50) | (No Cannon) |
Ladybug LV5 x1

| | | |
| --- | --- | --- |
| (No Melee) | Machine Gun (GP+50) | Howitzer (CP+60 RNG3~4) |
Enemy Support Side Edit
3 bosses.
D-Scythe LV8

| | | |
| --- | --- | --- |
| Twin Scythes (MP+ 50(A) SPD+10) | Machine Gun (GP+50) | Cannon (CP+80 RNG2~3) |
Honey-B LV6

| | | |
| --- | --- | --- |
| Tail Needle (MP+50 SPD+10) | Machine Gun (GP+50) | Cannon (CP+80 RNG2~3) |
Grand-E LV6
| | | |
| --- | --- | --- |
| Blunt Spike (MP+50) | Machine Gun (GP+50) | Cannon (CP+80 RNG2~3) |
Battle Themes
Edit
Player Theme: 01. Uplifting Battle
Enemy Theme: 17. Tyrant.
Enemy Support Theme: 16. Impending Attack!
Challenge Strategy
Edit

Auto-Repair (HPR+10) (capsule)
157tE 160tN 139tH
117expE 123expN 110expH
+50 +50 +50 (+50Hard) bonus exp
x6 Flitter Dance
x2 Neptune Horn
x1EN~2H Mantis Touch
x1 Bee's Revenge
x1 Bagworm Shell
Next/Previous
Edit
<- Chapter 5 -The Subordinates
Ad blocker interference detected!
Wikia is a free-to-use site that makes money from advertising. We have a modified experience for viewers using ad blockers

Wikia is not accessible if you've made further modifications. Remove the custom ad blocker rule(s) and the page will load as expected.